As of today you can find user contributed pages on start.me about topics of interest, for instance News, Entertainment and Sports. You can use these pages as a source of inspiration for your own page, or simply "Favorite" them so you can easily access these pages through your Pages menu.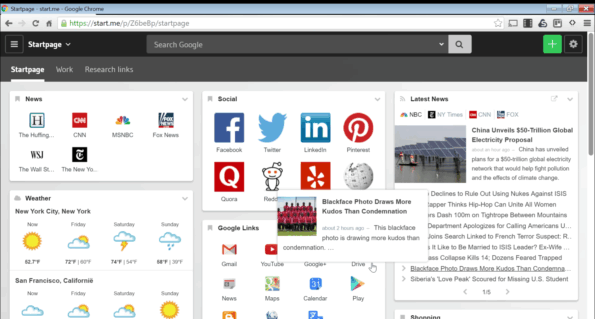 Currently we have over 200 localized pages available, spanning 33 countries. More pages are added on a daily basis. Do you miss a particular page or subject? Let us know and we'll try to make it available as soon as possible.
Find pages of interest
(1) Open the Pages Menu (left top icon) and select "Find Pages of Interest".
(2) Here you can browse Public pages and Team pages.
Public pages – Pages created by other users or by the start.me content team. Pages can be filtered using the Subject and Country drop down.
Team pages – Pages created and shared by other members of your team.
(3) Once you found an interesting page, you can add it to your Pages menu using one of the following two options:
"Favorite" page – Click the yellow star icon next to the page title to Favorite a page. You'll instantly see updates (e.g. new widgets that are added) by other users on this page, but you can't edit the page.
Edit page – Click green edit icon in the right top to Edit the page. You won't see any further updates made by other users on this page.
Example pages
To give you an idea of the pages that are currently available:
Plan your next vacation together
Tired of bad weather? With this page you can easily start preparing for your next flight out of here.
Technology
Do you want to stay up-to-date about the latest tech news and innovations? You'll find a curated list of the best tech news feeds and sites on this Technology page.
Shopping
Looking for a selection of the best online destinations for shopping? Then don't forget to follow this Shopping page.
Share your page with the rest of the world
Have you created a page that could be useful for others and are you willing to share it? Then please e-mail us the the URL of the page. After we reviewed your page, we'll feature it in the new "Pages of Interest" section.
Provide us with your feedback
As always we'd like to hear your feedback about this new feature. Please e-mail us or leave a comment below.